To The Cloud: A Book Review
When I picked up this book written by three senior Microsoft employees Pankaj Arora, Raj Biyani and Salil Dave, the first thing that struck me was its size, or rather the lack of it. This is no heavy tome extolling the virtues of cloud computing, but a brief yet clear look at the technology over 120-odd pages divided into four chapters. Now, you would expect most books explaining a new technology to be a bit larger, but considering the target audience – the busy, yet informed Chief Information Officer (CIO), as is mentioned in the foreword by Microsoft CIO Tony Scott – To the Cloud strikes the right balance between conciseness and detail.
The theme of the book is that IT can be more than just a support function in an organization – it can actually create value. Interestingly, PwC, which consults CIOs in how to better impact their organizations, espouses similar beliefs in its report, The value-creating CIO).
Coming from the Microsoft stable, it's not unusual there are quite a few anecdotes referencing Microsoft Azure, but as the authors make clear, this book is about cloud computing as a technology and not merely how it is perceived by their employer. The book covers four stages in the enterprise cloud computing life cycle – Explore, Envision, Enable and Execute. Through these stages, the CIO is told about what cloud computing is and how it can benefit the enterprise, how a shared vision for change can be developed in the organization, how an adoption approach can be defined and providers chosen, and finally, how cloud solutions can be implemented and integrated in the organization's psyche.
The language is simple and free-flowing, and little touches like the summary at the end of each chapter add value to the experience. The case studies in the Epilogue are very instructive and the Glossary is extensive. Personally speaking, some things I would have liked included would be highlighted boxes that present the more important information in a page and more case studies, preferably from across the world (the three present are all have Indian connections). Also, I was a bit surprised at the lack of references to other publications. Considering the lack of authoritative literature on this subject, this omission may have been intentional.
However, these are but minor issues and do not take away from the value of the book. The long list of senior executives who praise the book lend credibility to the content, and the foreword itself is a wonderful read. There is also a website (http://www.tothecloudguide.com) associated with the book that provides supplementary information. Whether you are wondering what this hoopla on cloud computing is all about, or are already convinced about its efficacy but want to know more about implementing in your organization, this book can help you take the right steps.
Priced attractively at $30, To the Cloud is strongly recommended.
By Sourya Biswas
———————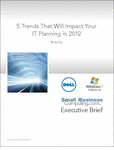 "Building a SMB Mobility Platform for 2012 and Beyond"
Mobility is one of the top 5 trends that will impact your IT planning in 2012.
Many of the IT trends that your SMB organization will tackle in 2012 are not new, but technology does continue to evolve and your IT staff needs to stay up to date. This Executive Brief examines the impact of mobile devices on small and medium businesses and demonstrates how to create a secure mobile platform to manage your data and devices.
Receive Your Complimentary Executive Brief NOW!
Sourya Biswas is a former risk analyst who has worked with several financial organizations of international repute, besides being a freelance journalist with several articles published online. After 6 years of work, he has decided to pursue further studies at the University of Notre Dame, where he has completed his MBA. He holds a Bachelors in Engineering from the Indian Institute of Information Technology. He is also a member of high-IQ organizations Mensa and Triple Nine Society.