What Will The Taleo Purchase Bring To Oracle?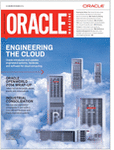 On 9 February 2012, Oracle announced its purchase of human resources management software maker Taleo Corp. for $1.9 billion. Taleo's cloud-based talent management solutions optimize how organizations hire, manage, develop and motivate employees to improve performance and drive growth. The $1.9 billion price values Taleo at $46 a share, an 18% premium to the company's closing stock price of $38.94 the day before. Even for a company as large as Oracle, this represents a significant amount of money.
So, what will this acquisition bring to Larry Ellison and company?
First of all, it allows Oracle to compete effectively with its traditional rival SAP that acquired a SuccessFactors, a bigger player in the HR space two months ago (See: Some Recent Cloud Computing Acquisitions). Some analysts believe that this deal may help Oracle offset the loss of potential sales to closely held HR software maker Workday Inc., which plans an initial public offering this year.
Secondly, it is essentially a cloud computing deal, an area in which Oracle is increasingly making its presence felt, a distant cry from the early days of 2008 when Ellison had derisively dismissed it (See: Quotes About Cloud Computing (And Some Background Information On Them) ). Since then, he had embarked on a $40 billion buying spree covering 70 companies, many of them on cloud players like RightNow Technologies (See: Oracle Acquires RightNow Technologies for $1.5 Billion). He had also been an early investor in Salesforce.com, founded by former Oracle executive Marc Benioff, until the latter ousted him from the board. Today, Oracle, SAP and Salesforce.com are competing for the same pie, although the latter has a distinct first-mover advantage on all things cloud.
However, Oracle, with its strength in databases coupled with the product offerings from its acquisitions, can become a formidable opponent quite soon. Quentin Hardy makes an interesting comment in his blog (See: http://bits.blogs.nytimes.com/2012/02/09/oracle-1-9-billion-more-to-change-everything/) – "Played correctly, the Taleo acquisition could help Oracle transition from one generation of technology, where it was a big database player that also sold applications, to another, where it is a comprehensive applications provider that also offers a database with important legacy functions. Salesforce, after all, sells software as a service through the cloud, but much of the company runs on Oracle relational databases."
According to Morgan Keegan analyst Michael Nemeroff, this acquisition fills a gap in Oracle's portfolio. "They did not have a recruitment package. They always needed to develop or buy it, and now they have done it," he said. He also predicted that a cloud-based payroll software maker may be next on Larry Ellison's shopping list.
As big IT players look to become bigger and cloud computing becomes increasingly popular, acquisitions in this space will become a regular occurrence, if it isn't already. Almost a year back I had predicted just such a scenario (See: Is Consolidation Coming to Cloud Computing?). It's a great time for cloud entrepreneurs and their investors looking for gigantic payoffs.
By Sourya Biswas