Video: 7 Deadly Sins of Cloud Security
In this short video, experts from HP discuss the latest cloud security threats and explain measures to help overcome them. Hear about the seven deadly sins of cloud security and learn how to avoid becoming a victim of poor security in your cloud environment.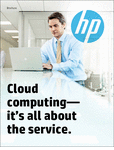 Cloud Computing: It's all about the Service
Consequently, you need to design an IT environment that offers the flexibility, efficiency, and security to meet these expectations and aligns services with business needs.
This is a task that's best achieved by striking a balance among IT domains, spanning traditional internal IT, private, and public cloud environments. But how do you achieve the right IT balance for delivering cloud services?